Island Wars (Minigame) map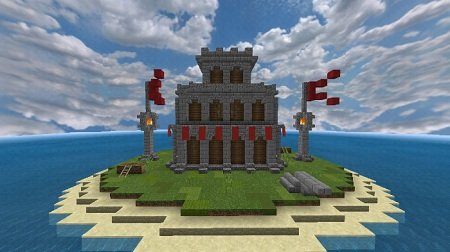 Island Wars is a fascinating map where you can play with your friends in Minecraft PE. The game is designed for a whole team of players, they can be from two to ten. Your task is to split into two teams, one will be red and the other blue. After that you will find yourself on your island. On the terrain often enough appear chests, where you can find the necessary items for the game.
In the chests contains a weapon that will help you cope in the battle with enemies. In total there are 8 types of weapons, and each is slightly different and has its advantages!
How to play on the map?
The game is quite dynamic, as every half a minute you can receive 3 chests that appear on the island. In the chests, as already mentioned above, contains various useful items.

Take the weapons from the trunks, choose the right one for yourself and start the battle! Be careful to find the fortress of your opponent. Develop your own strategy to capture the enemy and destroy him!
Look at the video review to better understand the process of passing. Successful battles!
Island Wars (Minigame) map