Minecraft 1.16.0.57 for Android
We present to you the new
Minecraft Bedrock 1.16.0.57
update that was released today by the developers of the Mojang studio. This is a new test version of the Nether update, which is already available to all Android users. In the
new update
, new long-awaited blocks and mobs are waiting for you.
What's new in Minecraft Bedrock Edition 1.16.0.57 update?
Why did we call this update the long-awaited? This is because every player and fan of the Minecraft world has been looking forward to the new features of The Nether in the new Bedrock update from the Java version of the Minecraft game. In this article we will not list all the features of the new update, you can see this in our
main article
! Today, we will only look at what the Minecraft 1.16.0.57 update gives us.

New in the game:
1. Respawn Anchor: This is a block that allows players to set a respawn point. It can be charged up to level 4 using Glowstone and this level decreases by 1 each time a player uses a block to revive. When used in Overworld or End, this block explodes and disappears;
2. Basalt Deltas: This is one of the biomes in the Nether world, in which there are many pillars and floating islands of basalt and black stone;
3. Blackstone: A dark block that functions like a cobblestone. It can only be found in the Nether world;
4. Lodestone: New special block type;
5. Zoglins: This is a hostile mob that attacks many other mobs that they see. Transforms from Hoglin when it enters Overworld. Hoglins are the hostile creatures that are living in the Nether world. This is the first hostile mob in the Nether world that can breed, as well as being a food source;
6. Ruined portals: It is a broken portal of the Nether world. It can be found both underground and underwater. There is a loot chest next to the portal;
7. Bastion remnants are something new! This is a fairly large construction located in the Nether. Here you can meet such hostile mobs as Piglins, these creatures protect their treasures in this place. Four types of structure are generated here: a bridge, a Hoglin statue, a dwelling, and a treasury.
Emotions!
You might have already heard about this since the developers of the Mojang studio at Minecon 2019 said that emotions will soon be added to the game! As you can see in the screenshots below, it will be very soon. Already now you can see in the Character Editor a new tab called Emotions.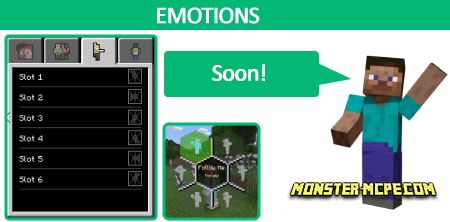 There is also something else interesting! Elements of the wheel of emotions was found in the game files.
Minecraft 1.16.0.57 for Android