Minecraft PE 1.0.8 for Android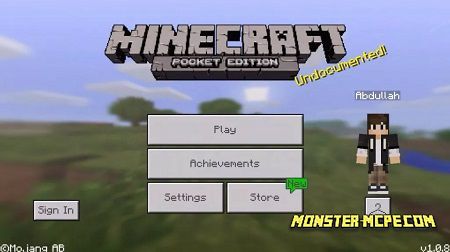 And another version of
Minecraft PE 1.0.8
with a new dimension, mob and command blocks. All the players can play this version on all Android devices.
What's new in Minecraft Pocket Edition 1.0.8?
Minecraft PE 1.0.8 introduces the first command blocks, as well as The Ender dimension. A new mob and a new structure in the winter biome were added to the game. Also in this
update
,
MCPE 1.0.8
minor bugs and errors that were found by players from previous versions of the game were fixed.
Command blocks
In Minecraft PE 1.0.8, command blocks are now available. Command blocks allow the player to use console commands that can change weather conditions, time and game mode. All you need to do is just open their interface and enter the command you need.
To get it you need to enter the command in the chat / give @p command_block.
These command blocks will be very useful for players to create different mechanisms in the game.
They can also be used for any action on the map, it is much faster and more convenient.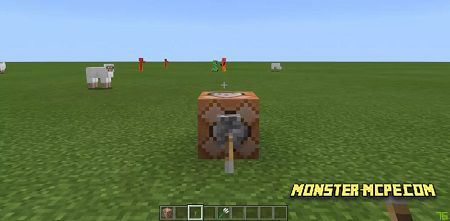 The ender
This is a new dimension that was added by the developers of the Mojang studio. Only the bravest and skillful players can meet with the most hostile mob of this dimension called Ender Dragon. After killing him, it is believed that the player is passing the game, but of course, after that, he can still continue to play. After killing Ender Dragon, you can do whatever you want, continue to wander, explore places where you have not previously been, build or destroy.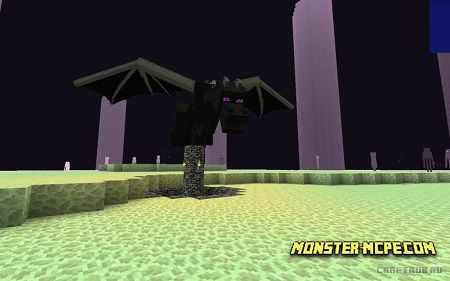 But if you decide to better explore for yourself the dimension of The Ender, then be careful because everywhere you can meet a hostile Enderman.
This is a place where you will never see the Sun, Moon and stars, only emptiness and constant night.
Winter biome
This is a biome that is completely covered in snow, here you can find a structure like Igloo. This is a new structure in which there is one room, bed, Furnace and Crafting Table. If you are lucky you can find a secret hatch under one of the carpets. This hatch allows you to get into a small room that will look like a laboratory. In this lab, you can find a small chest with very useful resources. Also, if you look around you will see a grate behind which there will be zombies.
In the winter biome, they also added a new mob called the Polar Bear. This is a new passive mob that will not attack the player until the player himself starts attacking the bear. We also draw your attention to the fact that by hitting one Polar Bear the other bears that will surround you will attack you.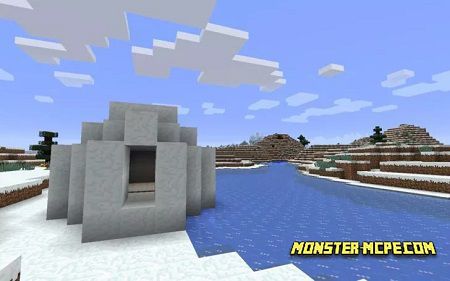 Minecraft PE 1.0.8 for Android