Minecraft for Weak Android phones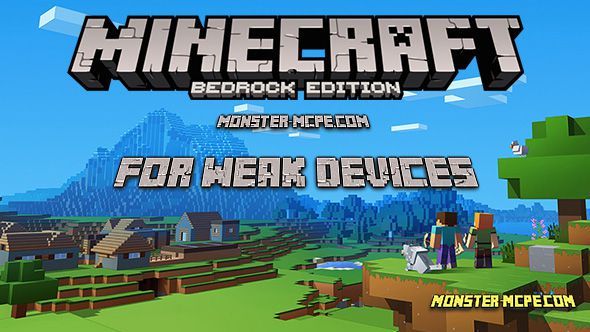 We are sure that a fairly large number of players today are faced with the problem of the performance of their devices. This problem does not allow you to play your favorite games such as Minecraft or play comfortably. The problem of low-performance Android devices is a very common problem, that's why we publish this article so that every player with a device with low performance can fully enjoy the game, namely, get a large number of unforgettable sensations from playing Minecraft, play comfortably and enjoy new updates
Minecraft on Android
.
In this article, any gamer will be able to find for himself an apk file for his device to install and play Minecraft.
Forget about old game performance issues, from now on you can download the right version of Minecraft for Android and fully enjoy the game!
Before choosing the version of the client that suits you, pay attention to the fact that our resource has a large archive of various versions of the Minecraft game. Follow the news on our website, because with the updates and the release of new versions we publish for you all the most relevant, and latest
Minecraft news
for your mobile devices.
Download Minecraft for weak Android phones

Minecraft for Weak Android phones