Minecraft PE 1.19.0.26 for Android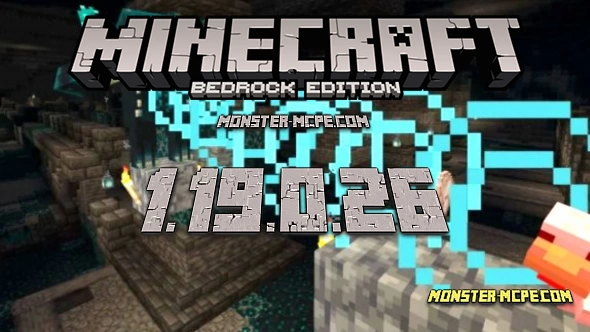 The developers have released a test version of
Minecraft 1.19.0.26 for Android
. The update improved the behavior of the Guardian, made 3 changes, 22 fixes and 9 technical changes.
Warden
Improved the behavior of the mob. Details:
Added a sonic attack.
Deals damage at a distance
Knockback the target
Doesn't sniff if there's a target
Mobs can push back the Warden
Does not burrow if he smells the target
Gets angry at the unit upon encounter
Changing Warden's combat mode won't cause any crashes
Correct amount of experience rolls
Changes
Added music for "Wild Update"
Ancient City structures match the Java version
Tadpoles are baited with Slime in
Minecraft
Shards of Echoes appear in the Chests of the Ancient City
Fixed bugs
Frogs make new sounds when taking damage
Fixed Frogs breaking sound
Improved the interaction button with Allay
Wither and Ender Dragon don't destroy Reinforced Deepslate
Reinforced Deepslate moved to another creative inventory tab
Steps, Slab, Clay Brick Wall correctly grouped
Rectangle of Reinforced Deepslate is generated in the center of the Ancient City
The Block of Light cannot be destroyed in water.
Mangrove roots and sprout can be used in the Composter
Most plants can be put on Dirt and Dirty Mangrove Roots
Mangrove Roots can be generated through Snow
Improved joystick touch controls
Updated the textures of the Boat and Boat with Trunk icons to match the Java version
Soul Lantern does not spawn in the air of the Ancient City
Fixed a glitch when using the Material Reducer in the Educational Edition
Technical Changes
Added 9 technical changes for addon development and testing.
Minecraft PE 1.19.0.26 for Android