Minecraft PE 1.16.20.54 for Android
New test
version
of
Minecraft PE 1.16.20.54
with corrected emotions. In this beta bugs and stability were fixed.
What has changed in version 1.16.20.54?
Less than two days after the previous version, Mojang Studios released the next one - Minecraft PE 1.16.20.54. Taming of mobs in Nether, you will see various locations and much more.
It is impossible to ignore netherite - a material which has more strength then a diamond.
Strider
As mentioned above, with the release of Minecraft 1.16.20.54, users have the opportunity to tame a mob right in Hell. This mob's name is Strider. It has a small body, but a rather large head. Strider is completely harmless and does not attack the player.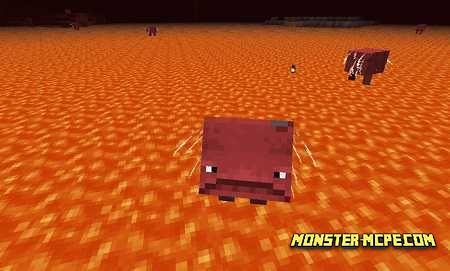 You can tame it with a warped fungus in Minecraft PE 1.16.20.54. After that, you can install a saddle on the strider, and then control it with a fishing rod with a warped fungus. This mob walks on lava much faster than on land.
There is one interesting thing, you can scare away hoglins with warped fungus.
Emotions
With Minecraft 1.16.20.54 update, users were greeted by such an interesting innovation as emotions. With them, Steve and Alex can act out certain animations that express any feelings.
Emotions, often caused game crashes. In new update, developers have fixed bugs and in Minecraft Bedrock 1.16.20.54 you can safely use emotions.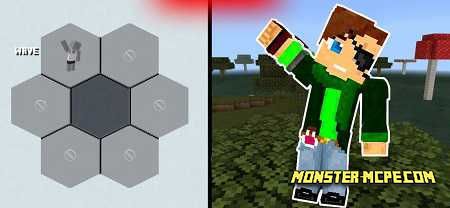 Respawn anchor
For a long time, players could only respawn on their bed in the common world. With new release of Minecraft PE 1.16.20.54 Nether Update, everything has changed.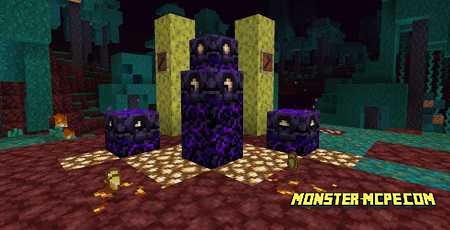 In picture above, you can see a new block - the respawn anchor. It allows player, upon death in Hell, to respawn right there. First you need to craft the respawn anchor itself from six crying obsidians and three glowstones.
TIP:
You can find crying obsidian in the destroyed portal (new structure in Minecraft 1.16.20.54), which is generated both in the Nether and in the common world.
Then you need to set the anchor where player wants, and then put in glowstones. After clicking on this block, respawn point in Hell will be set.
Minecraft PE 1.16.20.54 for Android