Riches! Texture Pack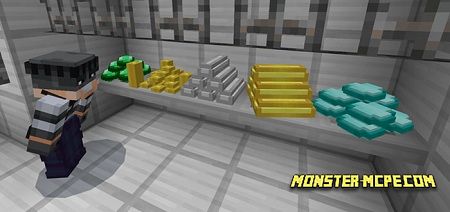 Texture of head and some skulls was changed on treasure items. These items get another view, for example from now, it will be diamonds, coins of gold, ingots of gold etc. It is good update for those who wanted to changed something in his game and add for role-play game.
What was replaced?
Here is a list of items:
— block head — replaced on skull;
— head of player — coin;
— skeleton — stack of emerald;
— skeleton (wither)- stack of emerald;
— creeper — pyramid of gold bars;
— zombie — pyramid of iron bars.