Ice Spike Biome, Stronghold Village & Igloo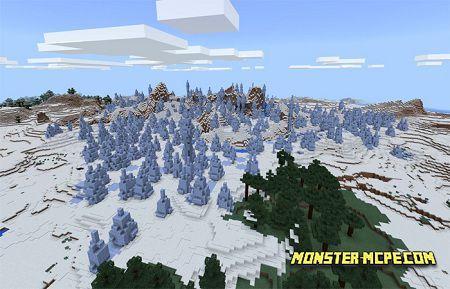 Very useful and exciting place for survive mode. This biome is completely consisted of ice. Here, walking this area, player will see interesting places. Here, you have a great opportunity to explore a new interesting places and things which can be useful for you, in order to survive on this
ice biome
.
Direction:
After player have spawned, turn back and go in that direction and across ice biome. There you will find the Village.
Inside Village, there is the Stronghold and Blacksmith. In order to get to the Stronghold, player should digging under the well.
Find useful items in Blacksmith, explore it and take all you need for survive.
Igloo is another place where you find something interesting, as Basement under the carpet. Hidden trapdoor will help yo to get there.
Chest with useful items for survive such as food, and mobs, which is locked in dungeon, waiting for you in Basement.
Seed: -995426411
Ice Spike Biome, Stronghold Village & Igloo