Angry Animals Add-on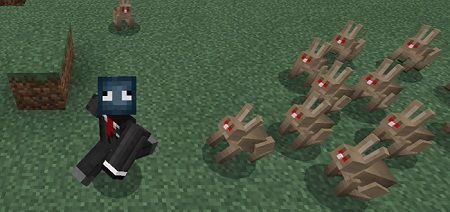 Angry Animals mod creates more dangerous creatures in the world of Minecraft Pocket Edition. Outwardly, they practically do not differ from ordinary animals of the cubic universe, except that their eyes will glow red. You could see such eyes with wolves. Once you come to one of these creatures, they will instantly start attacking you. Be careful!
Evil beasts have as many lives as normal, they have the standard attack power. But as soon as they are gathered in a pack, then you can be overtaken by danger!
In the screenshot, you can see how a lot of cows and rabbits, which used to be good, began to attack the game character. We spawned these creatures in order to enable them to hunt for the player in order to demonstrate how much they can be cruel. Well, the gameplay will acquire a new atmosphere of hardcore!
Rabbits will no longer be calm and sweet. They look a little creepy. It seems they are crazy!
List of animals that become evil:
Bats
Cave Spiders
Chickens
Cows
Donkeys
Horses
Mules
Mooshrooms
Ocelots
Pigs
Rabbits
Sheep
Spiders
Wolfs
Parrots
Llamas
Polar Bears
Dolphin
Salmons
Tropical Fish
Cods
Pufferfish
Turtles