Jevil! Add-on 1.16/1.15+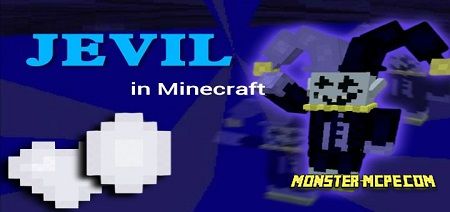 We present you with a very cool
add-on
that adds a new and very powerful boss to the world of Minecraft. This is an add-on using which in your world will be something more powerful than the Ender Dragon. Also, this add-on is a good experience for those who want to test their abilities and strength during the battle with perhaps one of the most powerful bosses!
The new boss's name is
Jevil!
It is presented in the form of a crazy joker. The idea of creating this add-on was taken from another game where earlier Jevil was one of the bosses. The new boss will add a little variety to the Minecraft world and a new experience for each player, so enjoy it.
Let's find out in more detail who Jevil is.
Who is Jevil?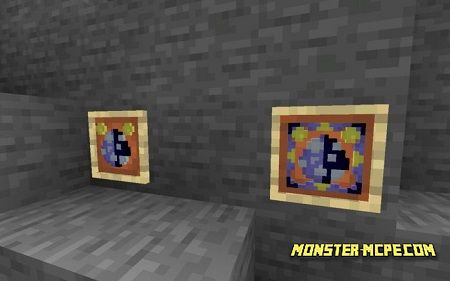 This is the new boss that previously existed in another game. Now, this character will appear in your Minecraft world using the new add-on. This character has a large number of health points, namely 999999999999! Oh, yeah! Your main goal is to attack him as often as possible and cause as much damage as possible, preferably from long distances. One of the reasons why this is so, because having hit it a hundred times, it will disappear from your world and drop a large number of diamonds, namely 99.
(Please note that the / kill command will not work for Jevil since he is very strong!).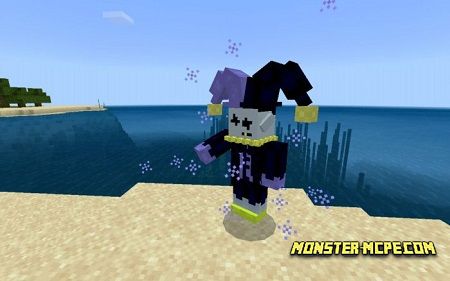 When a player deals a certain amount of damage to Jevil, his expression will change on his face.
How is Jevil attacking?
In general, this boss has six different ways to attack.
The first is a white disc, which he will use to shoot at the player and deal 10 damage.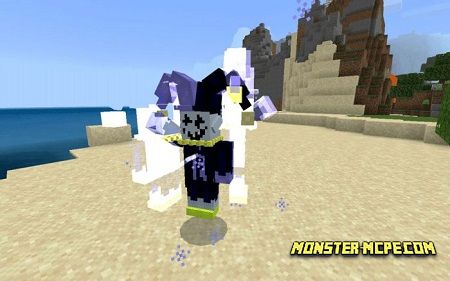 The second way is weak minions. These are creatures that the new boss Jevil can summon. Weak does not mean that you should not be afraid of them, they are weak only because they have a small number of health points, which can not be said about their strength.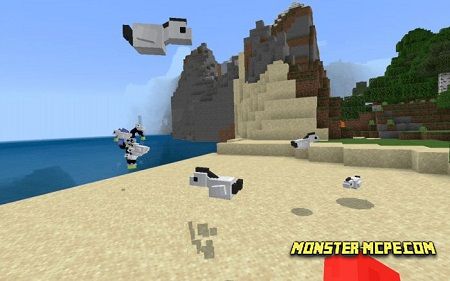 Jevil can also change his appearance for attacks. The new boss can turn into a sickle. When attacking, it can deal 15 damage.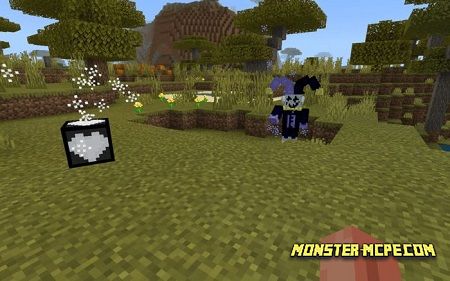 Another ability to attack players by summoning bombs. These bombs can lift you into the air.
In addition to normal bombs, Jevil is able to summon a bomb in the form of a box with a heart. But be very careful, getting close to this box it can explode and kill you!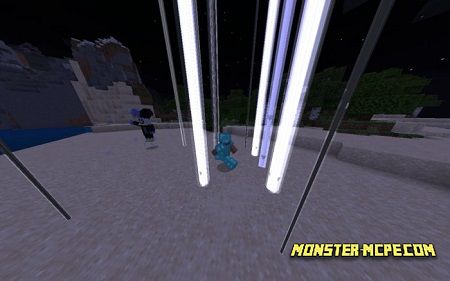 The last and most powerful way is lasers and sickles. A large number of deadly lasers and sickles flying around that can kill a player in a matter of seconds. This is the last and most powerful attack! Be very careful!