Item Generators Add-on 1.14+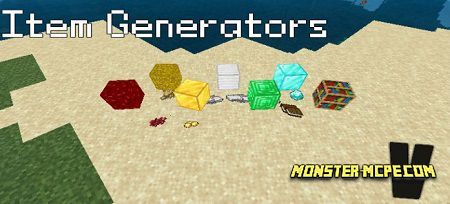 A new
addon
that adds new generators to your Minecraft world. New generators will spawn different objects, this is a very useful feature for those players who usually create maps. Please note that in order for the player to spawn
new generators
, you should use the creativity mode or use special commands.
Let's see what and how many generators will be added to your Minecraft world:
1. Diamond;
2. Emerald;
3. Gold;
4. Wheat;
5. Book;
6. Iron;
7. Nether Wart.
We draw your attention to the fact that the rate of generation of certain items depends on which particular item. The speed of generation depends on how much the item is useful to the player.
Item Generators Add-on 1.14+