Underground Biomes PE 1.12+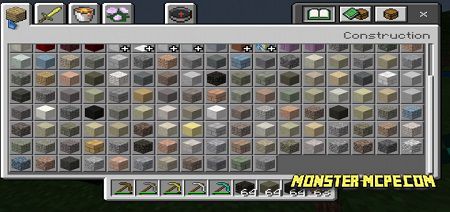 We present to your attention a fairly large addition to your world that will add a large number of new different blocks. This is much better than the usual ores and stones. Go underground and there you will find a huge number of new resources, a large number of different types of ores and stones.
We draw your attention to the fact that this
addon
is at the Beta version stage and therefore not everything has been added, but there is still something to see!
This version of the addon was moved from the Java version of the game with permission from the creator of
Underground Biomes
, which gives you the right to easily use all the innovations of the mod in the mobile version of the game.
At this stage of development, a large number of blocks and resources were added, in the future new biomes will be added!
As in the original Java version of Minecraft, the player will be able to explore new locations and a wide variety of blocks in survival mode, but this will be available after the upcoming update. A lot of work has been done to change resources such as sand, brick, gravel and more. Functions such as generating and crafting recipes are still under development.
Below is the image, you can see a large chest with new types of stones:
You can also find such types of useful resources as ammonite, two types of bone shards, and different types of skulls and shells. In some places, lignite is present.
As previously mentioned, new types of blocks will be added to the game such as dacite, komatit, a new type of andesite, rhyolite, gneiss, migmatite, dolomite, eclogite, basalt, two types of granite, black and red, chalk, marble, and much more another.
New options for sand, stones, bricks, cobblestones and more will also be presented.
New ores will be added soon!
Underground Biomes PE 1.12+