Captain America's Shield Addon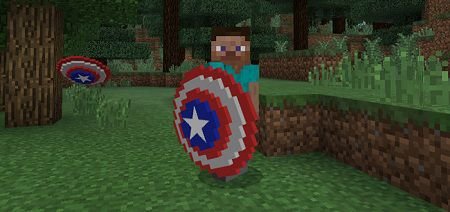 Captain America's Shield Add-on creates a new object in Minecraft PE, it appears instead of a trident. This is Captain America's shield! This item has its own functional features, the same as the protection in the Marvel universe. When you take this shield into your hand, then automatically turn into a superhero Captain America, you will increase strength and power.
How to find a shield?
A new item can be purchased from Myron Maclain, or find it in creativity inventory. This item will also drop from Drowned Zombies, when you kill these aggressive creatures.
When you keep the superhero shield Captain America in a hand, automatically turns have a different kind of status turned on. Speed Leap or Resistance are the new effects that add-on creates. Players can use the Loyalty enchantment so that the shield returns to its owner after the cast.
What's new?
Captain America does not receive damage from falls, poisons and bad effects
New textures
Bugs fixed
Trading with Myron Maclain
Captain America's Shield Addon