Unobtainable Items Addon
Unobtainable Items Addon will allow players to access items that already existed in the Minecraft PE universe, but for some reason were unavailable. We are talking about some types of elements. You may receive new blocks when you kill different creatures in the game world. Of them will fall out new items!
How it works?
Four living creatures in MCPE will now have new items, if destroyed. Previously, these items were in the app, but the players could not get them for nothing.
Here is a list of new items that you can now get.
Invisible Bedrocks - Wither Boss' drop
Stained Glass Block or Pane - Sheep's drops
End's Gateway - Enderman drops
Nether Reactors, Obsidians - Zombie Pigmen's drops
Portal Elemenst - Zombie Pigman grops, use a sword with enchanting while hitting the mob
Ender Pearls - Enderman's drop
Wither Star - Wither Boss's drop
Stonecutters - Silverfish's drop
Frost Ice - Snow Golem's drop
Bubble Column - Drowned's drop (1.5.0.7 only!)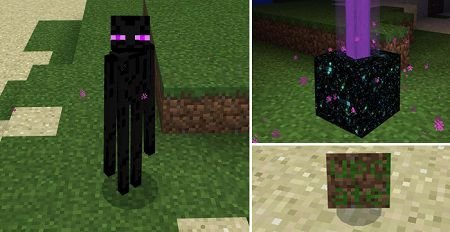 Each new block is definitely useful in use, especially when you want to decorate your game world in a new way. Set the textures to gain access to the new appearance of the objects.