Wizards! Add-on 1.13/1.12+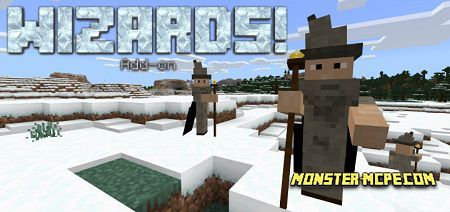 This
add-on
is for those who thought that the witches are cool ... until this moment, since this add-on adds cool characters, namely
Wizards
, these are characters that can easily burn witches! But be careful, because if you are on their way, you can be apprehended by the same fate.
Addition:
New sinister sounds and many others have been added, also drinking animation.
The player can find the Wizards in the marshland during the daytime, as they are a little afraid of the dark. These pyromaniacs like emeralds, so if you want to join one of them to your team, be prepared to pay them. In order for them to become part of your team, you just need to tame them as you did before with any other animal. After that, they will be with you to the end!
Wizards will attack any hostile mob, especially when someone gets close enough to you. They will continue to attack the enemy until he dies or until he moves away to a safe distance.
In order to heal your Wizard, you can use their favorite food, such as baked potatoes or pumpkin.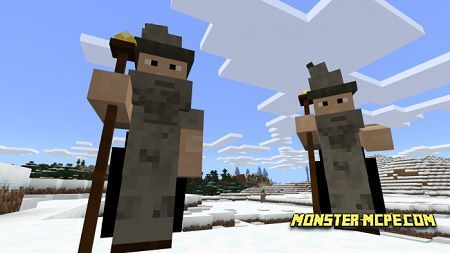 You can also meet EVIL Wizards, they also spawn in marshland, but in the dark, also in the forests. They are hostile to absolutely everything alive, good, neutral, and the fact that it simply moves in their direction ... especially to the player!
Wizards! Add-on 1.13/1.12+