More Swords Mod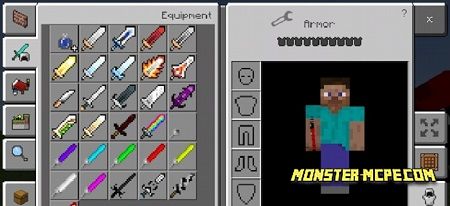 This
mod
was created for MCBE, namely for
swords
. Here you can see more than twenty different types of swords, from usual knife to laser saber. Developer placed a lot of emphasis on the details and the process of getting the items. Some swords have amazing abilities, such as absorption of souls of killed opponents and which, in turn makes you stronger.
Almost all the swords can be created with using of new recipes or items, each of them save their effects and unlike old items, they are more powerful and has more energy.
From the beginning start to crafting the simple items and in process, improve them. Your sword, is the guarantee of your power and survival in MCPE.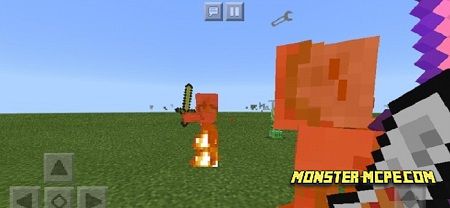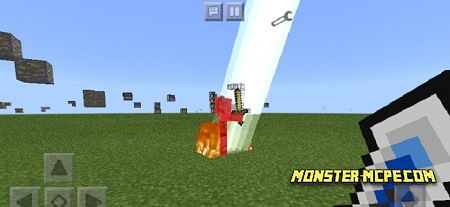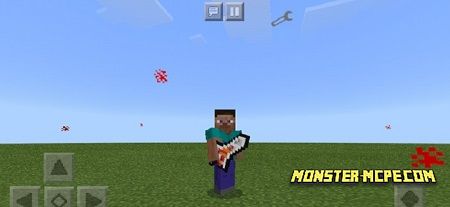 Added items and swords:
Light Saber Blue

Thunder Stone

Soul Block

Soul Stone

Light Saber White

Glacial Sword

Wurtzite Ore

Hell Blaze

Soul Saber

Twisted Blade

Frost Blade

Narrow Blade

Luxurious Sword

Tungsten

Adventurer Sword

Light Saber Yellow

Light Saber Lightblue

Light Saber Red

Inferno

Silver Edge

Glaze Stone

Ethereal

Fire Orb

Ignited Soul Stone

Light Saber Purple

Light Saber Handle

Tungsten Block

Knife

Zombie Slayer

Fire Stone

Shifted Blade

Light Saber Green

Wurtzite Crystal Block

Wurtzite Crystal

Ice Shard

Ignited Soul Block

Blade of Thunder

Dark Blade

Crimson Sword

Phantom Blade

Nether Sword

Tungsten Ore

Rainbow Sword

Shadow Brawler

Excalibur