Lucky Chests Addon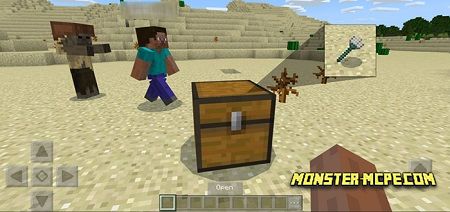 This
add-on
is good for those who like to play in survival mode. New chests replaces pigs. From now, they will spawn in random places of your world. These chests have different in different way than basic chest. When you open the chest, it will drop one or few items on the ground. It will be really good helper for you while you play in survival mode.
How it works?
These chest are spawn in different places of the world, which is gives you pretty more advantages and become more useful than usual pig.
Pressing long on the chest and click Open, if you want t open it. By the fact, you will not open it, just the entity which was replaced, will die and drop items on the ground.
Here is a list of drop which you can get:
Planks- sixty-four (amount)

Logs- sixty-four

Trident

Pumpkin

Bow

Arrows- sixty-four

Bricks- sixty-four

Iron ingots- from ten to twenty.