Laser Gun Addon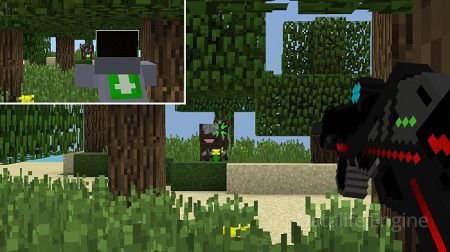 Laser Gun Addon is your new opportunity to get modern weapons in Minecraft Pocket Edition. Here there are not only weapons, but also new other features. It's about the fact that some standard items, as well as creatures, will be replaced with modern pieces. For example, instead of the usual bow, you can choose Laser Gun, this is a more powerful weapon. Robots come to replace mobs, they are a little stronger and look more interesting. So let's check it!
Laser Gun Addon features
The first weapon is Laser Gun. This gun shoots laser projectiles that can attack opponents more than a simple bow. Using laser shots, you can create fire explosions that inflict heavy damage on your enemies, evil creatures, or monsters. A laser projectile appeared instead of an arrow. An enchanted laser projectile replaces tipped arrows.

Robots are new creatures that you can meet in the game universe, installing Laser Gun Addon. These creatures replace aggressive monsters. Robots appear instead of skeletons, wither skeletons and stray. Robots are somewhat stronger than their predecessors. At the same time, the robot appears as a horse, it is a mechanical prototype of an ordinary horse.
Cool Enemy Robot: 25 health, immune to day lights, afraid of water
Rusty Enemy Robot: 20 health, immune to day lights, afraid of water
Enemy Robot: 30 health, fast mob, immune to day lights, afraid of water
Robot Horses: 30 health, fast mob, jumps high, afraid of water
Rusty Enemy Robot Boss: 800 health
 
This mod will add to your game world Minecraft PE a new futuristic atmosphere with weapons and robots. It is already compatible with the version of MCPE 1.4 Download right now under the link below!