The Simpsons Addon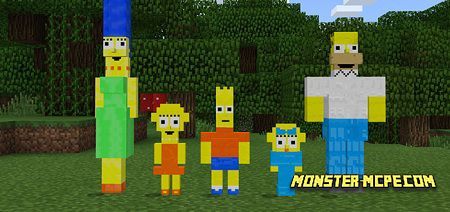 This
addon
adds new characters from well-known cartoon —
"Simpsons"
. Some behavior of characters was not completely optimized, and body structures is not animated, that is why when they are walking it looks little awkward. All main five members from this cartoon was added to game (simpsons family) in order to give you opportunity to get positive emotions and fun while playing the game.
Description of gaming process:
Five characters from this cartoon replaces some mobs.
All these characters not dangerous, even if you decided to attack them. Drop from them is some food items and money.
Ability to trade with villagers, using dropped items.