Zombie Commando Boss Add-on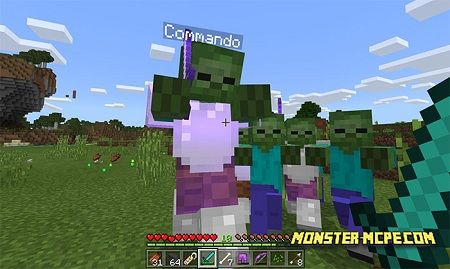 New boss was added into
MCPE
, it is not replaces any mob. You can spawn him, only using "name tag" and some mob in game. Try defeat him, but do not think that it will be so easy.
Description of gaming process:
This mob is not spawn as usual in game world, you can create it only if you name some zombie (not husk or drowned) with help of name tag. Use anvil in order to rename name.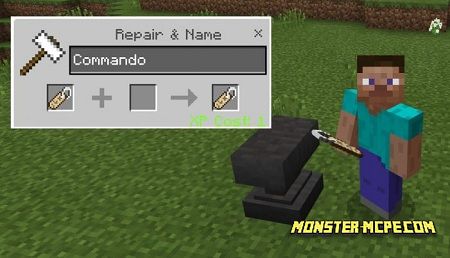 As it was mentioned before, do not think that it will be so easy, this boss is very dangerous.
Before you start to create this boss, recommended at first to get sword and armor of diamond.
Description of Zombie boss:
Attack power: seventy-five (can kill with 1 hit, even if you have full diamond set);
health: two-hundred hearts (400);
Additional effect: can blind on six seconds;
Have 2 abilities:
— summons from one zombie to army of zombies, also can summons creepers or skeletons;
— players who was hit, will be blind on six second debuff.
Pay attention that in case if you decided to fight with him in water it will not slow him. In water, he will be unable only to summons his mobs. In general, it will be better if you will avoid of fighting with this boss in water.
Also, here is another type of boss, it is "husk" type, he can summons strays or husks, not zombie and skeleton (still can summons creepers).
Description of zombie mobs:
— warrior — uses enchant sword of iron, armored mob. (can be as husk type) — thirty hp or twenty-five hearts;
— elite — stronger than previous one and uses enchant axe of diamond- fifty hp or twenty-five hearts;
— runner — has type as husk, moves faster than other zombies;
— gladiator — has golden armor and enchant axe — fifty hp or twenty-five hearts, powerful hits — ten damage (five hearts).
— other mobs as usual zombie, skeleton, stray and husk (except gladiator) has ten hp (five hearts);
— creeper — thirty hp (fifteen hearts).
In future update:
— new zombie types — grenadier;
— other methods for summoning boss;
— drowned boss type.
Zombie Commando Boss Add-on