Custom Songs Add-on 1.18/1.17+/1.16+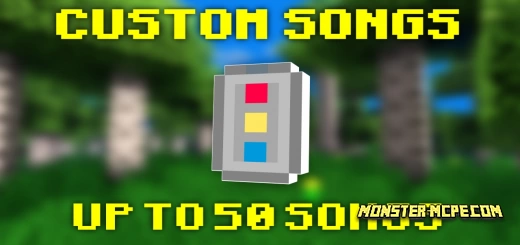 Do you like to listen to beautiful songs, while mining diamonds and destroying mobs in Minecraft? With the
Custom Songs
mod
you can choose your own songs to run them right in the game. It's pretty simple and convenient, and there are more than 50 kinds of music to choose from. Plus, there are tracks that last more than an hour, so you won't be distracted by switching and enjoying the gameplay.
Preview
Note that there won't be any songs initially. You need to add them yourself. To do this, you need to rename the songs as in the screenshot below. Then send them to the custom folder.
Remote control
Grab a rock and stone button or spell the command
/give @p music:remote_control
. Use items to skip songs.
Custom Songs Add-on 1.18/1.17+/1.16+