Tesoro Classical Architecture Set Add-on 1.16+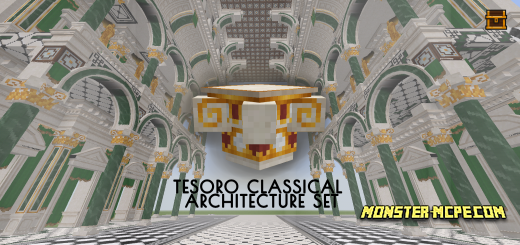 You can build really beautiful structures in Minecraft PE, but all of them will not have architectural sophistication. To do this, you will have to use special
mods
, such as the
Tesoro Classical Architecture Set
. This add-on contains detailed architectural blocks for creating majestic buildings in a classical style.
Columns
2 column sizes
Many colors
Looking up will set the top of the column and looking down will set the base
Column bases.
Similar to column sizes.
They are used to make the columns look beautiful.
Balusters
Installed in the same way as the columns.
Curtains
12 types
Curtains can be extended by installing them on top of each other.
Entablature
2 types
Gables
Limited sizes
3 kinds
Arches
4 types of arches with 4 sizes
Apply architectural decorations
Command to get items:
/structure load lists ~ ~ ~
.
Tesoro Classical Architecture Set Add-on 1.16+