Man-Made Structures V1 Add-on 1.16+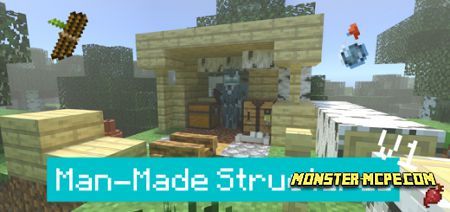 Would you like to add new structures from the past to your Minecraft world? If yes, then the new add-on is what you need! This
add-on
adds a large number of new antique structures that have symbolic damage and appearance of that time. The unique type of damage to the structure adds more realism to your world and better conveys the atmosphere of that time.
We also draw your attention to the fact that inside some structures, players can find interesting and useful loot, but at the same time, be careful, as inside some structures you may run into danger.
Explore all the new chests and vases to get loot. Let's take a look at all the features of the new add-on below.
New structures and their features
As mentioned earlier, new structures will be added to the game, as well as new items and blocks.
The first thing worth paying attention to is vases that will automatically spawn in all new structures. Explore your world carefully and find all the hidden vases. Let's take a look at all the vases that will be added to your world.
One of the newer vases is the clay vase. This type of vase spawns in almost all biomes of the Minecraft world. As mentioned earlier in the game, you will see some cracked vases.
These vases can drop bricks.
The second type of vases is mossy vases. As you might have guessed, these are vases covered with moss, such items will spawn in jungle biomes and swamps.
The next type of vase spawns only in the desert, namely the sandstone vase.
The last type of vase is a red stone vase. These vases will spawn in the mesa biome and badlands.
As mentioned earlier, new blocks have also been added to the game, namely the crumbly sandstone block and the squeaky oak block. Please note that if a player steps on such a block, he will break and drop items of the same type.
Previously, a campfire block was available, but by the decision of the developer it was removed, this was done so that players could get more experience by trying to create it on their own.
In order for the player to create a fire, you must first build its structure, which consists of some parts, namely the base of the fire. Please note that to craft the base of the fire, you must follow the following requirements for placing items when crafting in the crafting table (pay attention to the position, this is the lower-left corner):
Add as many logs as there are four in total.
The next step is to put stacks of firewood on the logs.
Players need to create stacks of logs following this crafting recipe:
There is also a crafting recipe available for Natural Structures users:
When the player has crafted a stack of logs for kindling a fire, use a torch.
Other structures:
1. A pile of bones:
2. Ancient statue in Minecraft style:
3. Swamp structures with loot from vases (players can find five types of different such structures in the swamp):
4. Structures that spawn in forests are called roofed forests. Hostile spiders always spawn near such structures. They also spawn in five different types:
5. Spruce structures inside which a mob such as Stray will be waiting for you:
6. Desert structures with creatures like Husk:
7. Also in your world pyramids of different sizes will be generated, both large and small:
8. Structures in the jungle of five different types:
And many, many others.
This add-on allows players to explore the world in a new way and get a lot of unforgettable emotions, as well as have fun.
Note: Do not forget to activate all experimental settings (players may not activate the biome creation option).
Man-Made Structures V1 Add-on 1.16+