Night Of The Clown (Horror) Add-on 1.17+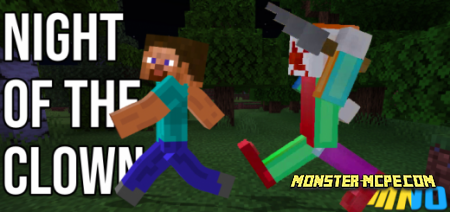 Many people have been afraid of clowns since childhood. This is probably due to the various movies, such as "It". Therefore, not everyone will be able to install the
Night Of The Clown (Horror)
mod
and survive in such conditions in the universe of
Minecraft PE
. Creepy sounds, manic laughter and a huge number of clowns are quite a scary sight. There will be pitch blackness in the block world and the moon will change.
A new kind of moon.

You can guess the approach of the monsters by the distinctive laughter. Surviving in complete chaos and constantly appearing clowns will be extremely difficult, so it is recommended to go to bed.
Two types of clowns are available: with a close-range and long-range type of attack. Close-range clowns can open doors. Ranged clowns shoot pies. When monsters die, dyes are dropped from them.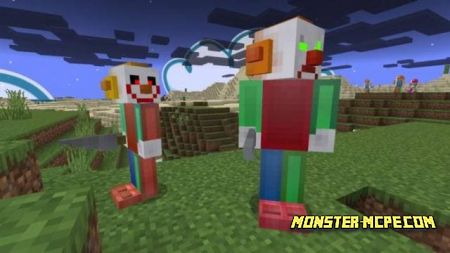 Night Of The Clown (Horror) Add-on 1.17+