Vanilla Foods Plus Add-on 1.17/1.16+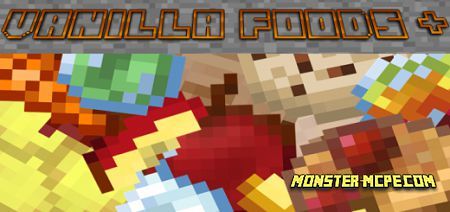 Would you like to add more food items to your Minecraft world? If yes, then the new
Vanilla Foods Plus
addon is what you need. This
addon
adds over a hundred new food items to your Minecraft world. All new items are based on existing vanilla items. Each player has the opportunity to try new unique food and add unusual food items to their world. Let's take a look at the features of this addon below.
Features of the addon
As mentioned above, the new addon adds over a hundred new food items to your Minecraft world. In order for players to add more different ingredients, the addon has both old and new recipes for food items. New ingredients will make your food more sophisticated, such as crimson mushrooms, which players can use to fry it first and then use to create a unique dish called the Crimson Porkchop.
Please note that since in the knowledge book players will not be able to find recipes for the furnace, you can find everything you need here.
Players can now add even more food types to the Nether world using ingredients such as Warped and Crimson Mushrooms, Brown and Red Mushroom, and Nether Wart.
What about freshly baked bread?!
Also, one of the features of this addon is the ability to purify water. Players can purify the water for use in their dishes as the recipes require water to prepare the dish. Please note that it cannot store purified water in the stack because Minecraft recognizes it like a potion. To do this, just boil it. This process works with all potions.
Vanilla Foods Plus Add-on 1.17/1.16+