Easter Addon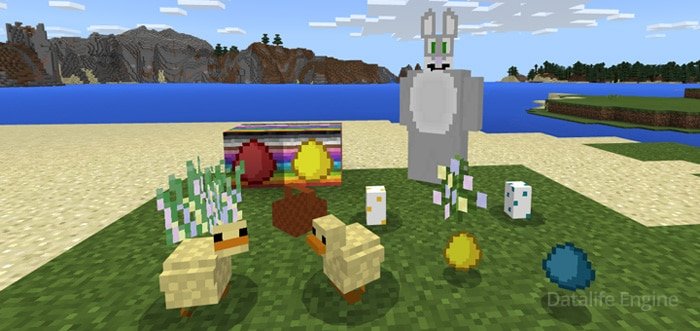 Easter addon
is a celebratory addition for Minecraft PE! It creates some new items including Easter eggs and candies, you can use it for decoration in the game world. Mod is suitable for players who want to feel the festive mood in game and get a new gameplay experience in MCPE universe!
So, here is a new mob Easter Rabbit, this character will be created in game instead of default Iron Golem. At once mod adds 16 different colorful Easter eggs. You can make your game world more smart and pretty!
How does it work?
New elements than mod creates will replace already existing items in Minecraft PE world, for example, blocks or creatures. There is a full list of new items and features in the end of showcase article.
It's worth noting that Easter mod changes some textures in Minecraft PE. Mob's behavior will remain the same, but such item as Easter egg has its own features.  Eggs will be created instead of shulker, use a dye to change its color into another you want.
Easter Rabbit is a new mob in Easter Mod for Minecraft PE! Players can spawn it using the same way as with Iron Golem spawn method. You don't know how to do it? Well, then follow this instruction: Take 4 iron blocks and place them into a T letter structure. Afterwards place an Easter block on the top of structure, that's done!
Easter mod main features:
Colorful Easter eggs (instead of dyes)
Easter eggs (suitable for decorating, replaces shulker mob)
New grass textures
Easter Rabbit – new mob in the game world
Chickens
Bunny blocks
Easter block instead of default Pumpkin block