Bangladeshi Vehicles Add-on 1.16+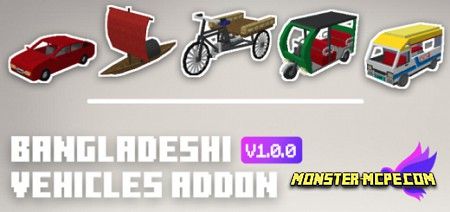 Have you ever been to Asia? Or maybe you are from Bangladesh or have you been there? If so, then you probably saw the transport used by the locals? The new
addon
adds the most popular types of transport used by locals in Bangladesh, as well as in India and some other Asian countries. Four types of transport will be added to the Minecraft world, namely Human Hauler Pick-up which is called Laguna, rickshaw, van, electric rickshaw, boat, and a simple car. Let's take a look at the new types of transport below.
Attention: Please note that for now, players can add new vehicles to their world using the special command / give @s bdv:, craft recipes will be added in the future. Also, don't forget to activate the experimental game settings! Also, special sounds and animations are temporarily missing.
Transport types:
1. Human Hauler Pick-up called Laguna:
2. Boat:
3. Wang:
4. Rickshaw:
5. Electric rickshaw:
6. And the last one is a simple car:
How does it work?
As mentioned earlier, in order for the player to get one of the new types of transport, it is necessary to use one of the available methods, the first of which is the / give @s bdv: command, followed by the text, for example: bdv: rickshaw. The second way is the spawn egg which is in the creative inventory.
Bangladeshi Vehicles Add-on 1.16+