Easter Eggs Add-on 1.16+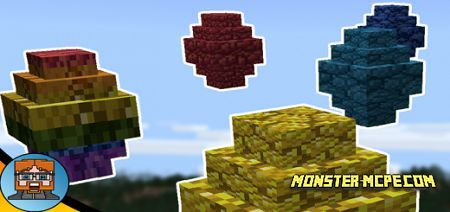 How do you feel about Easter? If you like this holiday then you will definitely love the new
Easter Eggs
addon. This is a new unique
addon
that adds Easter eggs to the world of Minecraft by breaking which players can get some kind of random and special loot. Easter eggs spawn in different biomes of the Minecraft world, so finding them is quite simple. Find an egg, break it and get some interesting loot. Let's take a look at the features of the Easter add-on below.
Features of the addon
The new addon adds Easter eggs that will spawn in your world in more than ten different colors. The design of the egg also depends on the color, in other words, different colored Easter eggs will have different designs in the game. Below you can see a screenshot of the new Easter eggs:
By breaking one of these Easter eggs, players can get some kind of special loot such as diamonds, gold, and others.
As mentioned earlier, players can find Easter eggs in different biomes, but not all! For example, in plains, desert, mesa, and water biomes, Easter eggs will not spawn. In biomes such as swamps, forests, deserts, and mountains, players can find Easter eggs. But look carefully, as an egg can sometimes appear in the most unusual places.