Metamorfo Add-on 1.16+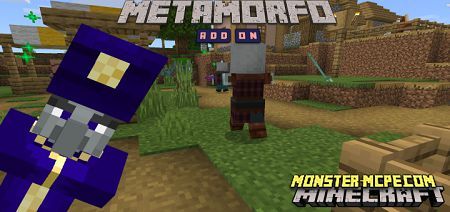 We present to your attention a new unique
addon
that adds a creature (mob) to the Minecraft world that has a unique ability, namely to transform into other creatures! This mob can turn into any other hostile creature. For a successful attack and victory in battle, this mob can transform into different creatures about ten times in a row using their power.
Seeing his target, he will immediately begin to transform and use the power of the selected mob against his enemy. The transformation process is completely random and does not have a definite cycle. The new addon is called
Metamorfo
and this is your new experience in the Minecraft world! Let's take a look at the features of this addon.
Features of the addon
As mentioned earlier, the main feature of the addon is a mob that will be added to the Minecraft world. In turn, a feature of this mob will be the ability to transform into other hostile creatures whose power he uses against his enemies! Let's see how it works below.
Everything is very simple. Outwardly, the new mob looks almost the same as the hostile mob Evoker and Illager, the difference is that the new mob has a different outfit, is much stronger, and is really hard to kill!
Using the ability to transform, he uses the power of many other hostile mobs to kill his enemy, after which he takes on his usual appearance.
Please note that the new mob spawns naturally in different parts of the Minecraft world randomly.
Attacks the villagers!
If the player wants to summon this mob on his own, you must use a special spawn egg.
Let's see below what kind of mobs the new mob can transform into:
- Husks;
- Vindicators;
- Zombie Pigmans;
- Evokers;
- Elder guardians;
- Piglins;
- Zombies;
- Creepers;
- Ravagers;
- Spiders;
- Drowned;
- Cave Spiders;
- Wither Skeletons;
- Blazes;
- Snow golems;
- Guardians;
- Shulkers;
- Iron Golems;
- Striders;
- Hoglins;
- Pillager Captains
- Witches;
- Pillagers;
- Strays;
- Endermans;
- Skeletons;
- Zoglins.
We also draw your attention to the fact that the new mob not only regains its appearance after killing the enemy but also before turning into another mob.
Below you can see screenshots of how it works in the Minecraft world: