Cinematic Cameras Add-on 1.16+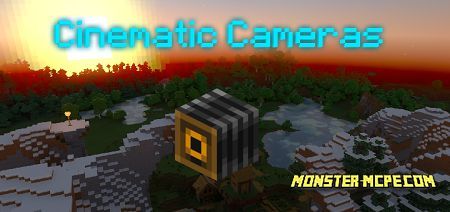 Would you like to be part of a big movie? This is possible with a new
Cinematic Cameras
add-on
that allows each player to use special tools to create cinematic scenes. Everything is quite simple, this add-on adds special commands to the Minecraft world that allow players to add millions of different cinematic scenes.
Use the available functions at your discretion and create scenes of your choice using your creativity.
Let's take a look at all the features of this add-on and how it works.
As mentioned earlier, this add-on allows each player to use special tools to create cinematic scenes. Players can create new scenes thanks to the so-called anchor points and checkpoints. The first allows you to set special points to which the camera will be directed, the second is used to set special points along which your camera will move. For example, in order for your scene to just start working, you need at least two checkpoint points and one anchor point.
So that you understand the exact characteristics of the scenes available to the players that can be used, there are about four billion scenes and about two billion checkpoints that can be used for your scenes. Please note that using a similar number of scenes and checkpoints can greatly affect the performance of your device, so do everything in moderation and pay attention to performance. The whole process can take some time, so make sure you think about how it will work optimally.
In the correct and simple use of this functionality, special commands / function will help you. Please note that you will need all the commands below to create a functional scene. Let's take a look at the commands below.
/ Function commands to control cinematography:

1. The first command is used to create a new scene and cyclic transitions: prev_scene and next_scene;
2. You will need the second command in order for you to be able to play your current scene on the camera of your player: play_scene;
3. The third command stops all active cameras in the scene, in other words, stops playback: stop_scene;
4. The hide_scene / show_scene commands hide or show the player the particles of the selected scenes;
5. A simple info command, shows you detailed data about the scene, for example, the scene number, the speed of movement of a particular camera, and the number of checkpoints used in your scene;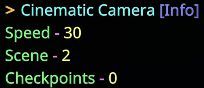 6. Another command that allows you to get a special spawn egg that players must use to place anchor and checkpoint points: shortcuts;

7. The last command allows players to remove the last player-placed checkpoint in a specific scene: remove_last_checkpoint.
Important note:
Be careful with the / kill @e command as it can delete all of your progress, namely the placed checkpoints and scenes.
We also draw your attention to the fact that for this add-on you do not need to use the Experimental game mode. This add-on can also be used for your Realms!
Cinematic Cameras Add-on 1.16+