SlimeGolems Add-on 1.16+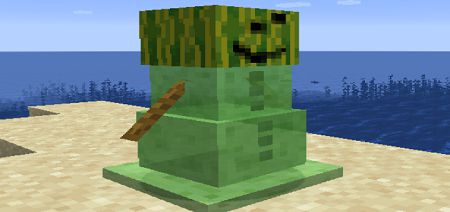 We present you a new
addon
that adds two new blocks of slime and a new creature, namely a Golem created from slime. Also, a feature of this creature is that it has a melon head. Outwardly, he looks like a snowman but only made of slime and with a melon instead of a head. Also, a carved melon block will be added to the Minecraft world. Players can place this block in their yard in front of the house as a decoration. Another block that will be added to your game is the slime layer block.
The Golem leaves this slime in those places where it moves. Let's take a closer look at the features of this addon below.
As mentioned earlier, two new blocks and one new slime creature will be added to the Minecraft world.
The first thing we will consider is of course a new creature.
1. The new creature is called the Slime Golem. This creature will use slime balls to attack its enemy. Deals 1 damage with slime balls to its enemy. Players can also increase damage to this creature by giving it one cobblestone block. After that, the golem's damage will increase from 1 to 3. In places where this creature walks, blocks of slime remain as traces. Also, players can remove the melon from the head of the golem, for this use scissors and interaction will get a block of carved melon.
If you break this block, it will drop the player from two to four watermelons. Please note that this creature does not spawn naturally in the Minecraft world, for this you need to craft it. This creature has a fairly low attack speed, namely 3 seconds for each. When improved, up to 6 seconds. Has six to eight lives. You can find the crafting recipe below:
2. The next one is the Slime Layer block. This is the block that the Slime Golem leaves behind in the places where it walks. Using these blocks of slime layers you can combine them into one block of slime. If a player destroys a slime layer block, he will drop one to three slime balls. We also draw your attention to the fact that it is also easy to craft the block of the slime layer yourself, for this use three balls of slime.
You can find the crafting recipe below:
3. And the last is, as mentioned earlier, a decorative block of carved melon. Earlier, you mentioned that players can get this block using scissors and interacting with the head of the golem of slime. This head looks a lot like a Halloween pumpkin block.