Windcaller Add-on 1.16+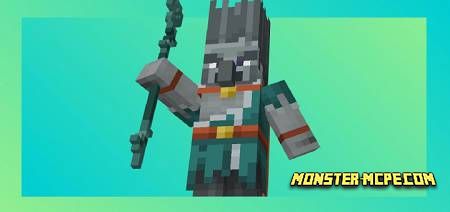 How often do you fight Illagers? Would you like to add a new type of Illagers to your Minecraft world? If yes, then we present you an
addon
that adds a new type of Illagers, namely
Windcaller
, which you could previously see in Minecraft Dungeons. The new mob, as you might have guessed from its name, can control the winds. Let's consider the features of this mob in more detail below.
As mentioned above, a new mob called Windcaller will be added to your Minecraft world. The idea of creating this mob was borrowed from Minecraft Dungeons. Just like in the original game, the new creature has two types of attacks. The first is a tornado that appears under the feet of the Windcaller target and lifts you up, and the second is the wind that can cause damage. During the second attack, Windcaller will rotate his staff in his hands. The new mob has 30 health points. These mobs will spawn only in the location of the extreme hill (the original spawn location has not changed).
If you kill this mob, an interesting loot may drop from it, namely a new item called Updraft Tome! This is an ancient book that allows players to learn how to control the wind. Using this book, players will be able to lift other mobs up into the air. Kill new mobs and get new loot.
Below you can see an example of Windcaller fighting a villager:
Please follow these settings for the addon to work correctly: