Villager Agent Add-on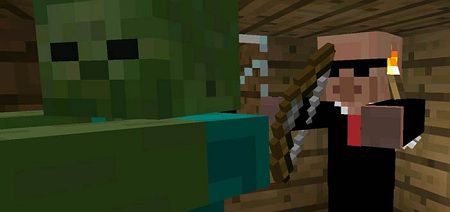 Everyone knows that the villagers in Minecraft Pocket Edition are not famous for their courage. It is worth them to meet with any monster, so they immediately run away and are afraid of somehow resisting the attackers. Now everything will change when you add the
Villager Agent Add-on
to your game! Residents of villages can be reborn after they are killed by a monster. These peaceful mobs turn into real killers and will be able to take revenge on their offender.
Simply put, a villager becomes a Villager Agent and will be able to kill evil enemies!
How does the mod work?
This villager happily spends his days in the cubic Minecraft universe, and very soon he will meet with a monster that will disturb his quiet being.
See how everything happens. Zombies begin to attack the villager. It turns out that when one of the monsters penetrates into the home of a peasant and kills him, he also turns into a zombie after death. But now everything is changing.
Take a look at the screenshot, after the monster destroyed a peaceful creature, it is transformed into a Villager Agent.
This new character has an interesting appearance, he is dressed in a suit and he has some advantage. You may notice that the character is armed with a bow and arrow and is able to stand up for himself, attacking aggressive creatures that attack him.
What's new?
1. Fixed trading mechanism

2. Residents of the village are again normal after the battle with monsters

3. The mod is compatible with the current version of MCPE