Minecraft PE 1.1.0.1 for Android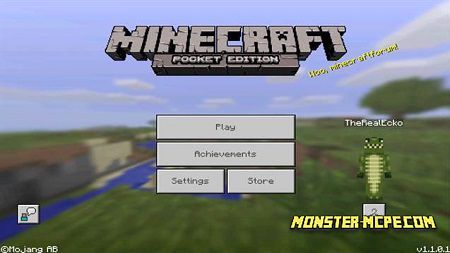 In the meantime, the developers of the Mojang studio are working on the next version of the Minecraft game, we are pleased to present you the
Minecraft PE 1.1.0.1
version! This version is available on all Android devices. New features, blocks and more await you.
What interesting was added to the Minecraft PE 1.1.0.1 version?
This is the
version
in which the developers of the Mojang studio decided to improve everything a little, namely to improve each of the individual elements and items of the game. In Minecraft Pocket Edition 1.1.0.1, a new dungeon and Illagers have been added. In addition to this, other things in the Minecraft world have been updated.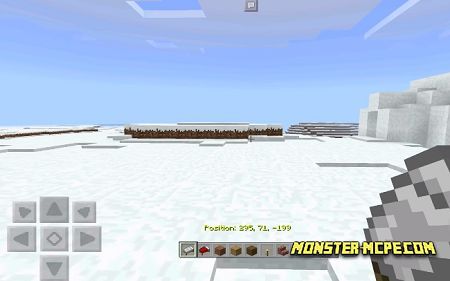 The textures of many blocks and items have been changed and improved. For example, if you look at a bed, carpet or wool, you will notice a difference. Of course, now they look better.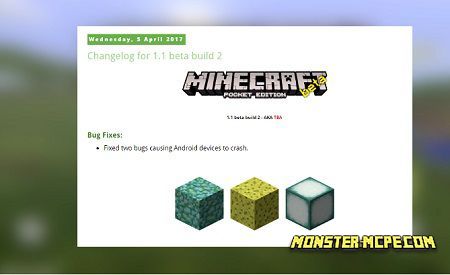 Terracotta settings were changed in the previous version of Minecraft PE.
Previously, this block had a different name, namely an uncolored block.
Now you can disassemble the Web into 9 threads.
When using scissors to cut a watermelon, all 9 elements are dropped.
All maps in the game are now numbered.
The enchanted golden apple got rid of the prefix — enchanted.
The well-known item that players usually used to lead neutral mobs is Lead (or as it is often called a leash). This item has improved behavior physics.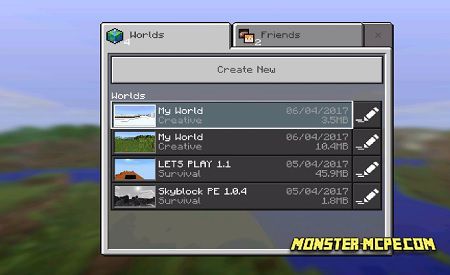 We also draw your attention to the fact that the duration of the poison effect of cave spiders in Minecraft Pocket Edition 1.1.0.1 will depend on the level of difficulty. In simple words, in case if the difficulty is bigger, then the poisoning effect, lasts longer, and vice versa.
The most interesting thing is that new commands have been added to the game. Let's look at some of them:
1. keepinventory is a command that allows the player to save all his things after death;
2. dodaylightcycle this command allows the player to disable the full cycle of day and night;
3. mobgriefing and many others.
All-new game rules will be useful to all players in the Minecraft world.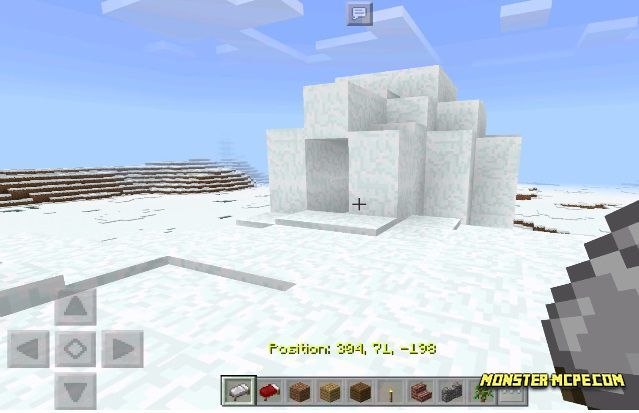 You can also notice how the color palette of colored blocks and sheep has changed. The developers have improved the color palette.
It is also very interesting that it was in this version of Minecraft PE 1.1.0.1 that the sleep animation was added. The player during sleep can see his legs.
Playing from the 3rd person, players can also notice a new animation of eating.
The new X button in the inventory of Creativity which allows the player to quickly clear his inventory.
Minecraft PE 1.1.0.1 for Android