Download Minecraft PE 1.2.20.2 full apk free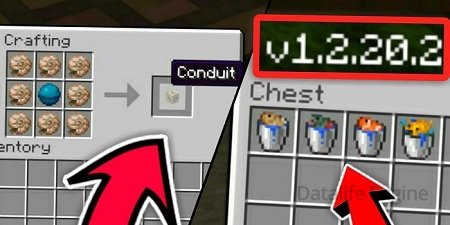 The new version of 
Minecraft PE 1.2.20
 is a Chemical update in which there is an Experimental mode. Players have the opportunity to test new features of the upcoming update. In the experimental mode everything works except for chemistry. In order to enable the functions of chemistry, you can activate Educational Edition. The screenshot shows how to do this. Let's take a look at all the features of the new
 MCPE 1.2.20
 update!
Minecraft PE 1.2.20 adds science features. This is Chemistry, which allows you to use several dozen new elements. Elements allow you to create new items. The developers have worked hard and now Minecraft is supplemented with new features.
Underwater world of the game universe Minecraft Pocket Edition continues to change. Textures of the water surface become more interesting visually. Through the water, players can see what is on the bottom of the pond. The lower the players go to the bottom, the weaker the light becomes, and you see worse what surrounds you. In
MCPE Aquatic Update
, new creatures appear, these are dolphins.
In the oceans and seas there are new structures, these are ruins and underwater caves. Next to them new plants, sea cucumbers are generated, they illuminate the area around them. Different sea cucumbers can emit light of different power.
In the Aquatic Update, a new item appears, it is a trident, it can be improved with new charms. In
Minecraft PE
1.2.20, a new magic book Draft appears. When you superimpose this effect on a trident, you can observe the changes as in this screenshot below.
What's new in Minecraft PE 1.2.20?
Players can swim underwater in a hole height and width of 1x1 block
Cod with new textures
Small zombies will burn in the sun
Oxygen is restored gradually
Download Minecraft PE 1.2.20.2 full apk free