Minecraft PE 1.19.60.20 for Android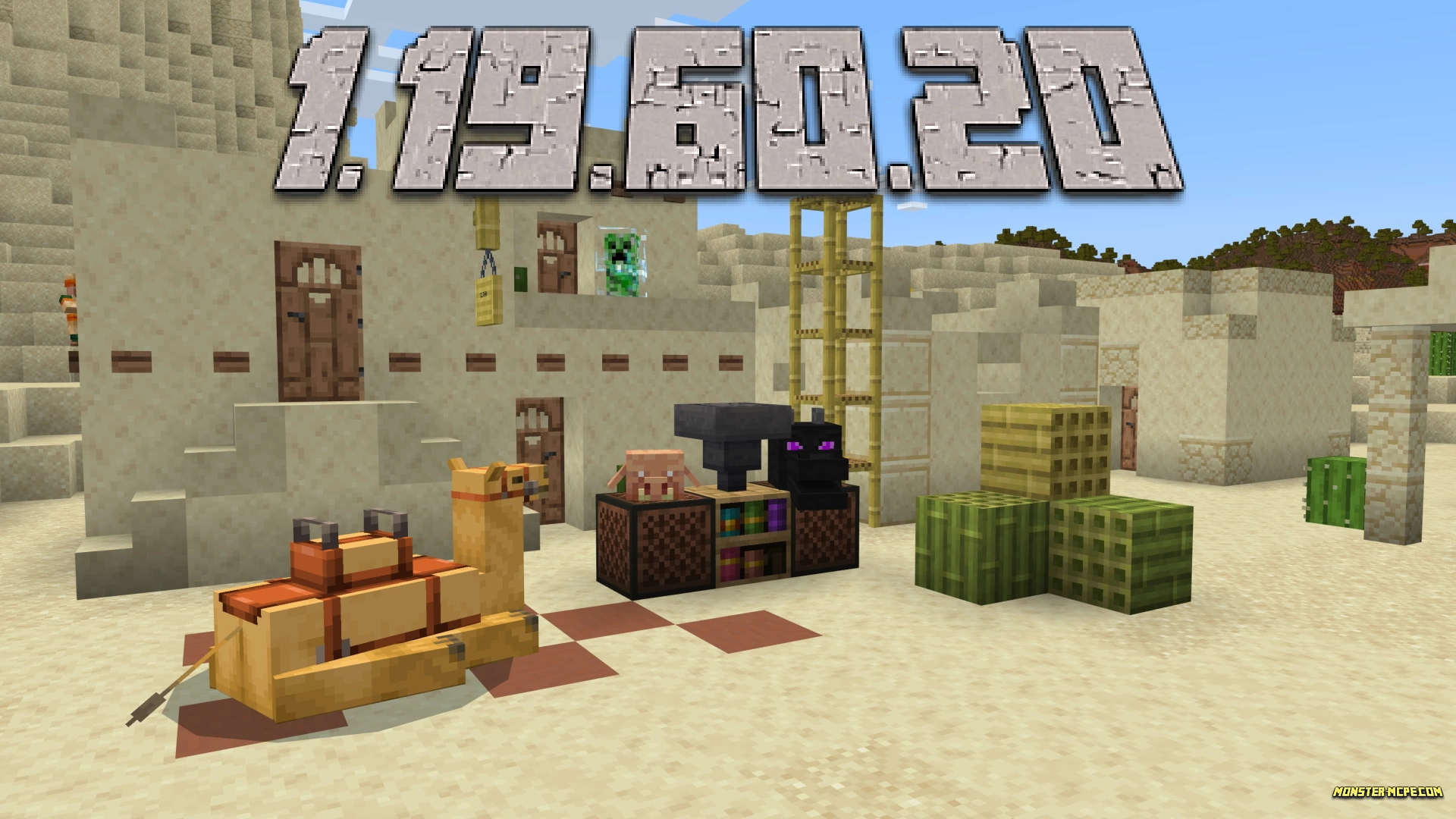 The developers have released a test version of
Minecraft 1.19.60.20 for Android
. The version added 30 improvements and changes, 4 items for version match, and fixed 24 bugs.
Note blocks
New features
When you put Mob Heads on a Note Block, you can make the sounds of these creatures
Piglin Head
Added Head. Properties:
Drop when Piglin dies from a charged Creeper
Ears flap when the head is worn by the player or when connected to Redstone
Bamboo wood
A new kind of wood
Bamboo block is created from 9 Bamboo
Stripped Bamboo block is produced by using Axe on Bamboo block.
2 Bamboo Planks are created from Bamboo Block and Stripped Bamboo Block
Bamboo Hanging Plate is created from 6 Bamboo Blocks and 2 Chains
Changed the textures of Bamboo boards
Updated the icons of the Bamboo Rafts
Bamboo Fence is displayed correctly on the Map
Changed the color of Bamboo Scaffolding
Chiseled bookshelf
Improved features
Added new sounds
Added minecraft:bookshelf_books tag to indicate items that can be put into a block
Block fills when books are used on a connected Funnel
When connected to a funnel, only Books are placed
Hanging signs
Improved Features
Changed the color on the Map
Changed Jungle wood block textures
Fixed placement under certain blocks
Camel
Updated the behavior
Textures match Java
Sitting mobs on the Leash will follow the moving player
Sprinting works even with a low hunger
Landing when standing up does not lead to drowning
Fixed the landing
Reduced size of baby Camels
Changed the color of the dash cooldown bar
Acoustic sensor reacts to getting up and landing a mob
Changes
Made five changes. Improvements:
Added Ender Dragon, Wither, Iron Golem, and Snow Golem Spawn Eggs
Boss Spawn Eggs in the future will only be available with commands
Villagers take lightning damage on Peaceful level difficulty
Added color mixing support for effects
Improved touch controls
Error screen appears when trying to create a world on a device with little free space
Version Match
Made 4 changes to match Bedrock with Java
Pumpkins and Watermelon grow on Mycelium and Moss Block
Particle effects from Lighthouse and Sea Explorer are transparent
The /say command displays the name of the object that created the message
Fixed 24 bugs
Changed the White Bear Spawn Egg
Game will not minimize on world loading
Updated Splashes
Fixed controller freezes
Creatures are not ejected by the Door connected to Redstone
Fixed the block selection function
Bamboo will not grow when adding Bamboo through the side
Improved the passing of mobs through the Wither Rose
Stone walls are placed correctly when set continuously
Fixed colors in texture sets
Axolotls don't dry out when leaving the chunk
Fixed the Tropical fish spawn underwater
Husks go through an opening two blocks high, and small Husks go through one block high
Villagers launch Fireworks away from the rain
Fixed a bug with desynchronization when entering and exiting multiplayer
Fixed glitches when dying from Withering
Text box works correctly when clicked again
Mojang Studios logo shows quality when loaded on Xbox
Wandering Merchant's trade window does not show profession
Technical Changes
Added 16 technical changes for addon development and testing.
Minecraft PE 1.19.60.20 for Android