Download Minecraft PE 1.6.0.5 apk free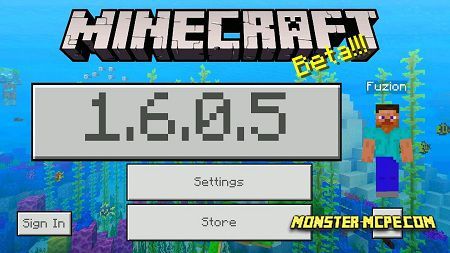 Minecraft PE 1.6.0.5
available now for IPhone and android, in this version of a game, developers have fixed all the old bugs.
What is new ?
When you press a button or when release, your screen will report you.

Now you can set up your controller cursor, just click on settings of controller.

On IPad, in hay sheaf will do less harm than another unit.

You can set up the distance of drawing for different worlds (in editing or creating).

All skins which you have, you may see on the top of your screen in android.

Content which you have in store, now will update automatically. In order to dis activate this function, just go to the settings of your profile.
What bugs was fixed in MCPE ?
Your statistic will update in real time.

Various previous errors related to realms, was fixed.

You can use XBox one in order to play in game on windows 10 (mobile version) with help of your controller.

From now windows 10 able to recognize custom skin in (.png).

You able to get achievement (beam me) for your IPhone or android device.
Download Minecraft PE 1.6.0.5 apk free