Spiderman's Webshooters Addon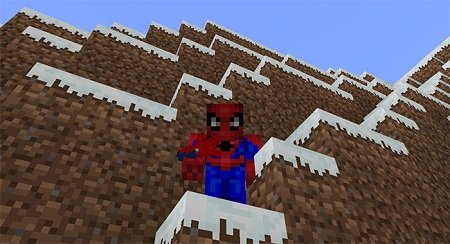 Spiderman's Webshooters Addon is your opportunity to add 2 items to Minecraft Pocket Edition, with which the gameplay will acquire new colors and functions! The first item is a weapon, it will be effective when fighting mobs. The second thing will help you quickly move using the teleport. You can be anywhere you need. All the features in the add-on are created based on the comics and the film in Spider-Man from the Marvel. Especially the mod is fun with spesial skin!
Main features
Add-on items will appear in the game universe of Minecraft PE replacing the already existing standard items from the inventory. You have several ways to get new things using creative tools, or to make them using special recipes of craft.
Webshooter Attack: Shoots with web at monsters. Causes 5 points of damage for a shot.
Webshooter Swing: Teleport your character instantly into another location.
By the way, I would like to tell you about one more feature that this mod gives. However, it is better to find it.
To properly use Webshooter Swing, you need to take this item and aim at where you need to tag your character. Let's say, in the example you teleported the player to the very top of the rock hill.
Take Webshooter Attack when you are attacked by many aggressive creatures in the world of Minecraft PE. The object will appear instead of a simple fishing rod and it will have similar functions in use.
Spiderman's Webshooters Addon