Controllable Airplane Addon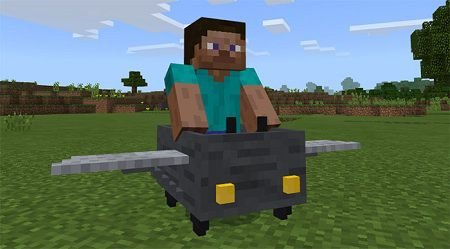 Controllable Airplane Addon is one of the most popular add-ons for Minecraft Pocket Edition ever created for the cube universe! It creates a real aircraft to the game world and you may control. However, the mod creates many other new functions that will allow you controling the movement of plane in the air.
Players have several attempts to learn how to fly the airplane, but when you get training you will have an opportunity to fly in MCPE for an unlimited time. This is a very interesting add-on which is worth trying!
How to fly an airplane?
There are some stages to learn how to properly manage a new aircraft in the cubic universe. Now we will examine each of them in detail.
The first thing you need to do is spawn the aircraft in Minecraft PE. Also there is an opportunity to find this vehicle in the game world. It should be noted that the plane appears in MCPE instead of Iron Golem, so it's very easy to create it in the world. Use the standard text command that was previously used for the spawn of a living being. Write / summon iron_golem in the text string.
Next, you have to insert the key. Find it in the Creative mode inventory. Just install the item in the 1st slot of the plane, as shown in the screenshot below.

We show an example of how to manage aircraft for different operating systems on portable devices.
iOS / Android device: Long tapping on the vehicle and tap Mount
W10 device: Right-click for the air vehicle boarding
How to fly an airplane in Minecraft PE?
Mod creates new items, they are needed to fully control the movement of an aircraft in the game world. Each of the items has its own functions. For example, to start a flight, you should take a green or red arrow.
Green Arrow Up - Take this item for flying higher
Red Arrow Down - Take this item for flying lower
When you want to move forward do not hold any item in your hand
Set a Blue Arrow inside the second vehicle slot to increase the speed in 2 times
Removing the key
Set Ghost to the third slot to activate Ghostmode. It gives you an ability to fly through the blocks
When something went wrong with flying process, replace the key and set it one more more time
If you want to remove the plane, take a Stick and tap on the vehicle. It will be removed in 1 second
Controllable Airplane Addon