Nether Start Addon 1.14+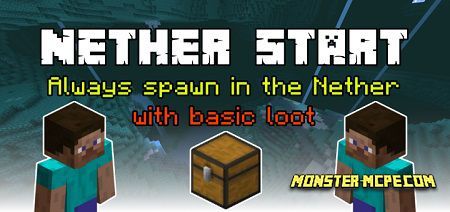 A new
add-on
that was created specifically for the release of the expected update related to the Nether. We are all looking forward to a new update from Mojang, which should be released to players in the near future. The new add-on lets you begin your journey right away with the
Nether
. After applying and using the add-on, the player will spawn in this dimension with all the items necessary for survival.
This will greatly simplify your survival and will be a good experience for the upcoming update. You no longer need to enter different commands to activate or receive something, just use a new addition. Please note that as soon as you enter the portal that teleports you to the Nether, it will immediately turn into a rock that will not allow you to use it again so that the player could not return back.
Do not think that everything will be very simple, because this is the Nether after all. It is possible and a little easier, but still do not forget about your main goal. The player should survive, get useful resources and do everything so that he can build his own portal back.
Kill hostile mobs, get ores and resources for survival, build your buildings for defense and try to return to the overworld.
With the release of the new update that we all have been waiting for so long, it will be easier for you to get useful resources and survive, which is why this add-on is very useful for a good experience.
As soon as a player spawns in his inventory there will be:
1. Golden sword, pickaxe, and shovel;
2. One oak seedling that you can use to grow a tree;
3. One block of dirt.