Redstone Mechanic Evolution 1.14/1.13+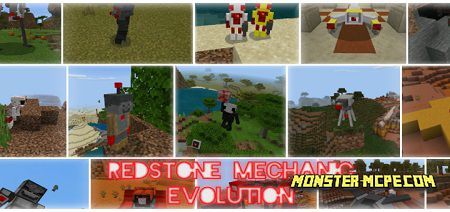 A new add-on that adds new creatures to the game. This
add-on
, unlike similar add-ons that add new creatures and items, does not replace old mobs and items. Many creatures were created based on Redstone. In general, 18 new creatures will be added to the game, below we will consider in more detail each of them.
Where to meet new mobs? New mobs spawn with the help of such an object as the Invasion Machine. This machine appears during rain (thunder). In other words, it can be said that new mobs will spawn during the Redstone Invasion in the Minecraft world. In order for the machine to work, you need just to activate it.
Now let's look at the new mobs that will be added to the Minecraft world:
Friendly mobs:
1. Tread: This is a robot that players can fully control, move and fight;
2. Dispenser: this is a robot that arrows use during an attack for all enemies, if it was killed, it drops an item such as a dispenser;
3. Observer: This is a robot that has a lot of damage and a lot of health. Attacks enemy mobs only at close range. It can be used as a tank;
4. Blaster: This is a mob that uses fireballs to attack enemies;
5. Robot: This is the simplest and most ordinary robot which players can use to test any things;
6. Turrets: Players can move this object by simply right-clicking on it. Attacks nearby enemies;
7. Soldier: Player can use this mob to fight enemy mobs during the invasion, they have little health and attack only at close range;
Hostile mobs:
1. Flying Gunship Robot: This is a flying object that can hit its targets from a distance. They have an additional ability that increases their speed of movement, which allows them to get close to their enemy very quickly. Also, can summon such a mob as a destroyer;
2. Destroyers: This is an ordinary soldier of the invasion. Uses a special jetpack which allows him to quickly reach enemies;
3. Broken Destroyer: This is a broken soldier, but it is not as simple as you might think at first glance since it attacks absolutely everything in its path, and we also draw your attention to the fact that it will not be easy to hit it, as they can blink;
4. Scorpions: A rather weak creature, but be careful if it poisons you with poison, you can die right there because it has a very strong poison;
5. Cyborg chicken: This is a robot that shoots with a ball of lightning, and also have a very high speed of movement;
6. Alien Greys: Uses a special Redstone item in battle. Has the ability to summon a flying turret;
7. Flying Cyborg: This mob is very weak, but attacks only from the air using Redstone bullets;
8. Robot TNT: We draw your attention to the fact that this is a very dangerous robot because it can shoot using TNT at its enemies, and also has a lot of health;
9. Robot Strider: This is a very dangerous and powerful mob that will be summoned in order to protect the boss of the invasion. Its minus is a very low speed of movement.
If you have any problems with the Add-on (which is quite possible), just restart the game.
Redstone Mechanic Evolution 1.14/1.13+