Fortnite Addon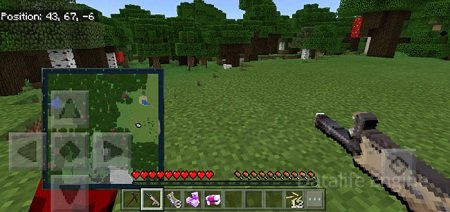 Fortnite Addon is a cool add-on that allows you to create a new weapon in Minecraft PE from a game called Fortnite! Each of the new weapon elements is unique in its own way and you can choose any of them for new battles with monsters in the gaming universe. You can take a sniper rifle, a pistol, or other types of guns. In the new version of mod you will find a modified list of items. But, to access the updated list on the screen, you need to activate the textures in the resource settings of the packs.
How does the mod work?
In the screenshots below you can watch several examples that now appear instead of number of standard elements in the game universe. Every new thing you can already see before in the Fortnite game . Instead of bow appears Scar. For him, there are special shells, these are bullets that replace arrows.

Instead of snowballs in Minecraft PE, there will now be grenades. When cast they create a powerful explosion.

Features of Fortnite Addon:
Scar
Bolt Sniper Rifles
Pump Shotgun
Grenades
Pistols
Shield Potion and Bandage
Med Kit
V-Bucks
What's new?
Pistol (Instead of the Fish Rod)
Sniper Rifles (replaces Ender Pearls)
V-Bucks (Emerald items, Blocks and Ores)
Corrected distance for Granade throwing
Enchanted items look like the Epic in Fortnite due to enchantment changing