Hulk Addon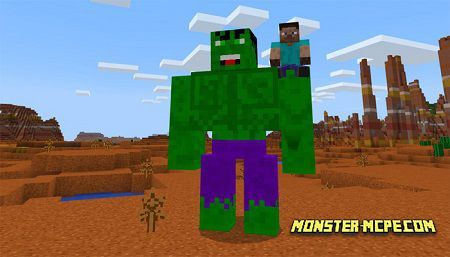 New
add-on
which is adds new mobs in MCPE world, which is called
The Hulk Add-on
. The first one, is strongest and famous character in the world is Hulk! Superhero has amazing strength and pretty good resistance to damage. Another one, is Hulk-buster. Pretty exciting to watch how they fight each other. Player able to control each of them.
How to spawn Hulk?
Below player may see visual example that what he should use. The structure which is consists of 4 iron blocks and 1 pumpkin. Put pumpkin on blocks, and it should look like a head.
In general, neutral for player, can hit player only if he will force it. Rideable, it means that it can be mounted. The main his aim is to kill all enemies, such as hostile mobs.
For devices
Windows10: right click on it, in order to ride.

Android and IOS: Pressing long on creature, then click on Ride.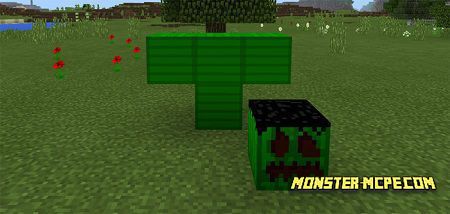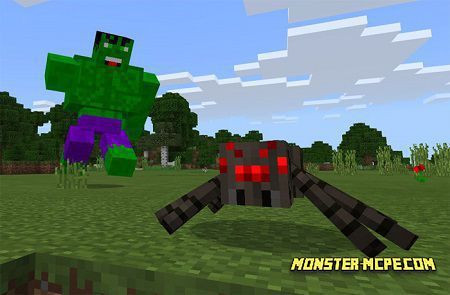 Such mobs as spider, zombie and others enemy mobs will be attacked by Hulk.
Neutral.
Player can ride him.

Hearts: two hundred twenty-five (health)

Pretty fast mob, especially while fighting.

Pumpkin and iron blocks was changed.

Damage: from 15-21.

Loot (amount): nether star — one; diamond — from one-five; emerald — from two-five.
How to spawn Hulk-Buster?
As it was mentioned before, Hulk is one of the most the strongest mobs, but there is only one, who can have equally strength, it is Hulk-Buster. You can see examples of how this mob look below, and as you can see he looks like Iron-man. Each player can ride him, fly or fight with other mobs.
In order to use fly mode — use the Activate Flying Mode item! In case if you want him to walk — use the Activate Walk Mode item.
This mob was created specially for battles with Hulk. Do not forget to use activation commands, it is very important. Recommended to watch from distance how they will fight.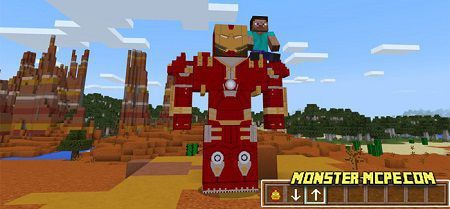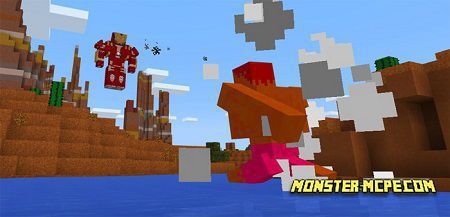 Characteristic of Hulk-Buster
Hearts: two hundred twenty-five (health)

Damage: from 15-25

Player can ride him.

Attacks only Hulk.

In order to make something do this robot, you should use mentioned commands, such as:

Fly mode: shoots beam over enemy.

Walk mode: melee fighting.