TNT++ Add-on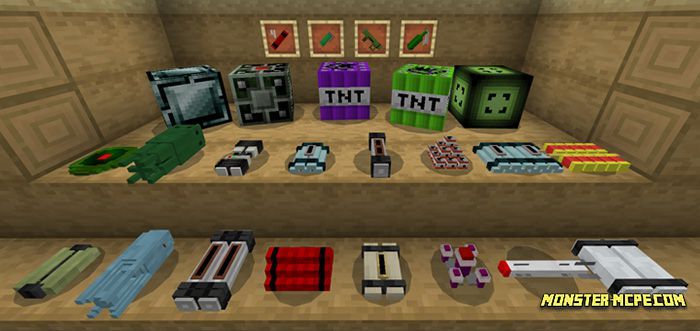 This
addon
is turns the most mobs in different types of TNT. In order to get them, player should play in survive mode and trade with special villager. Also, this addon changed items which you could throw or ranged item, into explosive.
How it works?
In order to buy all explosives you should visit demo man, it is type of villager which is cooperated with player by trading, as simple villager.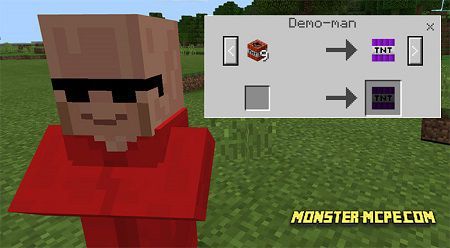 Here is a list of all available explosive items:
TNTx8-24

hydrogen-350

atomic-200

TNTx2-6

nuke-500

TNTx4-12

grenade-5

missile-8

TNTx100-100

singularity-1000

napalm-20

Absolutely all dyes was changed on new.

Micro mag - Light-Blue

M117 - silver

sensor mine -orange

C4 -blue

time bomb -red

pipe bomb -purple

sticky bomb -undyed

ANFO pack -yellow

twin pipe -gray

dynamite pack -black

firecrackers -white

and others.
Each type of explosives causes various damage and sizes of craters, as result of explosion.
In order to ignite explosive, you should use Flint and Steel. It can take some time until it will explode. It gives you opportunity to leave that place where you plane to explode something.