Cryptocurrency Addon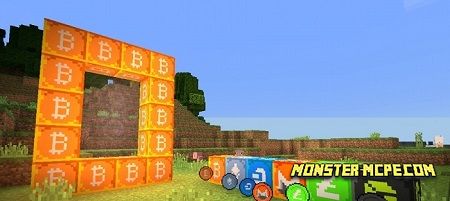 Mod which is give you opportunity to mining available cryptocurrencies in MCBE world. This
Cryptocurrency mod
can show you how to mining cryptocurrency such as bitcoin and after that exchange it at pleasant price.
Please note: this presentation of mod, is just an announcement, in the nearest time you will see the first beta version.
The list of cryptocurrencies

Cosmocash

Lisk

Ripple

Wondercoin

Augur

Zerocash

Dogecoin

Bitcoin

Concoin

Arkcoin

Firecoin

Windcoin
In general, full list consist of sixteen cryptocurrencies, each of them has its own price and texture. This variant is much better than mining of usual ores. Cryptoblocks is the new useful things which is take new position of digital currencies.
With using of new tools you can get cryptocurrencies much faster. When player will get his first, lets say, bitcoin or any other currency, he can use exchanger in order to get dollars.
Exchanger and shop:
Each player can use his dollars which he will get from exchanging of cryptocurrency for buying of new items, which is impossible to find in game world. Recommended reading special book of prices in order to know the cost of each currency.