Biome-Box Add-on

This
addon
place boxes with loot in random places. These places can be any of existing biomes, in any place of your world! In order to get some items, player should break the boxes, each box has ten hp. Also, boxes has items inside, according to their biomes and basic drop of mobs.
Description of working process:
These objects will be spawned in any of available biomes and after you kill one of them, you will get a loot. Here, below you can see loot from the boxes, each box is similar to biome where it was located: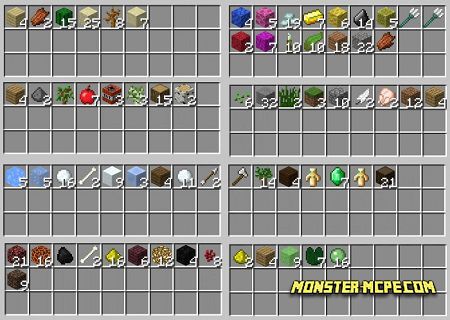 — Swamp-box drop (loot and amount of items):
lily pad, from five to eight
slime block, from six to fourteen
slime, from fifteen to seventeen
oak plank, four.
— Nether-box
nether-brick, six - twenty-five
glow stone, eight - twenty-four
magma-block, ten - twenty
nether-wart, eight - twelve
coal-blocks, four
glostone-dust, nine - twelve
nether rack, twelve - twenty-six
soul sand, eight - nineteen
— Plains-box
seed, five - seven
stone, twelve - thirty-four
tall-grass, two - seven
cobblestone, five - twelve
oak-planks, four
dirt, five - sixteen
grass, three - ten
— Desert-box
birch-plank, four
dead-bush, eight - twenty
cactus, eight - thirteen
sand, thirteen - thirty
sandstone, seven - ten
— Forest-box
oak-sapling, one - four
apple, six - twelve
oak-log, four - eighteen
birch-log, two - ten
birch-sapling, one - three
oak-planks, four
TNT, three - five
And many other biomes with their special boxes and special loot.