Marvel Superheroes Addon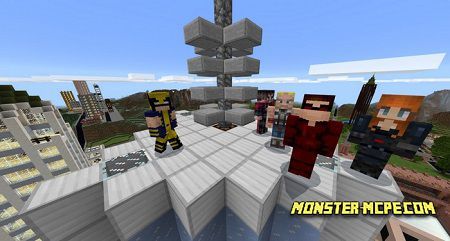 New interesting
mod
which is adds
Marvel heroes
and villains, are available from now for MCPE. Here you can choose one of these game characters and take a part in protection of universe, or even become a villain. Here, in order to become the strongest and powerful hero, you can use superheros items, such as hammer of Thor, shield of captain America or gauntlet of Iron-Man, you should attentively use items, they able to cause a very big distraction. Feel yourself superhero and protect villagers lives.
Description of items:
Deadly gun of Black widow

Bow of Howk-eye which is shoots with explosive ammo.

Gold armor of Spider-man

Gauntlet of Iron-man, can shoot with explosive ammo.

Mjolnir of Thor can hit with a lightning in a place where you point.

Chainmail armor of Deadpool.

Famous Deadpool sword Katana, which is deal big damage.

And many others.
Here is a list of added villains:
Each villager was replaced on good heroes such as Thor, Star-lord, Wolverine etc.
Mystique X-men mutant
Villain Loki
Evil robot Ultron
Aliens Chitauri
Venom.
Here you may find a city with skyscrapers, which you can see on the screenshots. Also, there is some little defect, team of Wolverine, Thor, Black widow, Starlord, Doctor Strange and Cyclop will not defend themselves. Hope it will be fixed in the nearest time.