AdvancedMC Addon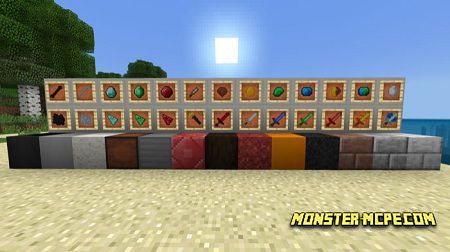 New objects and types of blocks was added to this
mod
. All new things make playing MCPE more comfortable and easy for getting more experience in survive mode.
Description of gaming process:
Obtain new item using commands. Besides item, available new blocks.
Types of advanced villagers sellers: block and item. To recognize them player should looking for new Villager in orange clothes, find them in villages.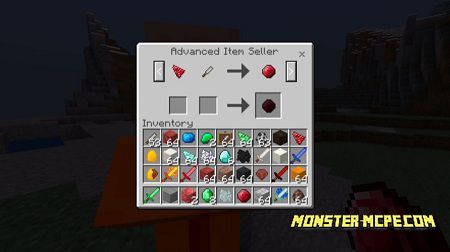 Bone:
You can find here a new 2 items: "wither bone" and "stray bone". Having one of these items, you can exchange at new Villager in order to get "Wither BoneMeal" and "Stray BoneMeal". They have its own special ability.
Description of these items:
— stray — has immune of arrow;
— wither — has immune of effect of wither.
Types of sword:
Here you can see all types of available swords and attack damage, you can get them at new villager:
sword of redstone — five;
aquatic — eight, has conduit power;
ruby — six;
lapis-lazuli — seven;
quartz — five;
blaze — eight, resistance to fire;
emerald — eight.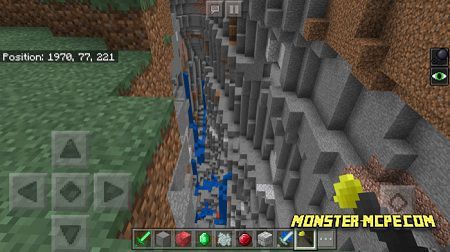 Gem of power
It is truly powerful item, recommended, get it as fast as you can. In order to get it you should get at first four key gems — each gem is obtained by killing some mob, such as elder guard, golem of iron, witch and wither boss. After that go to the new villager and combine them, after that you will get this Gem!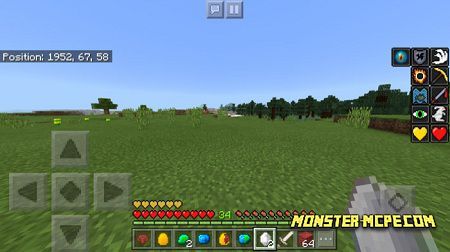 Special functions:
Below, there are items with their own statistic and commands:
"yellow_flower 4-5" Diamond
"yellow_flower 11" Chisel
"yellow_flower 12" Flashlight
"monster_egg 0-5" diorite brick
"purpur_block 3" Sand
"purpur_block 1" Steel
"red_flower 9-15" Key / Power gems
"yellow_flower 2-3", "sapling 6-7", "bone_block 1-2" wither bone and skeleton bone from skeleton, bonemeal
"stone 7" Leather
"yellow_flower 1, 6-10, 15" Sword
"quartz_block 3" Bruby
"yellow_flower 13-14" Ruby