More Chairs Add-on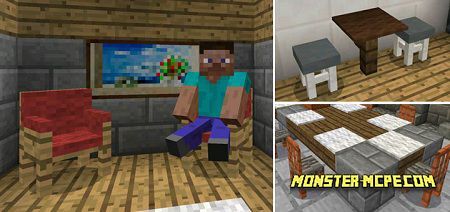 This
mod
is give you opportunity to get a new type of chairs for your MCPE world, in order to make it better and decorate it with new things. They replace some mobs but it is worth it. Here you will get a cool new nine chairs, you can use in order to sit on.
Description of how to use:
As it was mentioned before, chairs replaces some mob. In order to create some chair you should use spawn egg. (Please note, that your game should be set on max level of difficulty, because of your chairs will not be created).
Here is types of available chairs:
bar stool;
birch;
red;
purple pillow;
wooden bar stool;
beach;
office;
log;
acacia chair.
Example of wood chair.
Rotate this object by using a cookie. Hold it in your hand and "Long Press" on chair and click on "Mount".
Sit on all of these nine chairs. Player should "Long Press" on chair and click on "Mount". Press "the Jump" in order to get off. For windows "Right Click" the object.
Fishing is the most relaxing thing in game while seating on log, you relax better than ever.
Bar stool of wood is similar as usual bar stool but looks more simple.
Blue chair is the most comfortable thing for relaxing.
Bar stool is the simplest thing, you should not rotate it.
Press "the Jump" button in order to get off. Ride a chair just push it.