Private Space "Dimension" Add-on 1.16+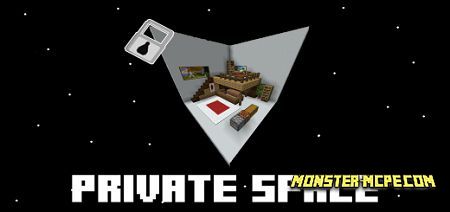 Do you often have to travel to different dimensions in the Minecraft world? Would you like to create your own dimension in your home, namely in your room? If yes, then the new add-on is what you need. This
add-on
allows players to create their own dimension in the room thereby creating their own world. Let's see how it works below.
Features of the add-on
As mentioned earlier, the new add-on allows players to create their own dimension at home, namely in their room. It is very simple to do this, first, you need to create a special spatial teleport.
Spatial teleport crafting recipe: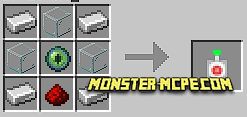 Once the player has crafted the aforementioned teleport, use it to teleport the player to your room where you can create your own unique world.
Once a room is created it is empty, players can decorate it however they want.
Screenshot of the room:
In order for the player to go out and leave his room, you just need to use the previously crafted teleport item. After that, the player will return back to where he started his adventure.
Please note that in order to avoid strong bugs and glitches in the game, you must remember one rule that players should not create another teleport item inside the room and use it as this can lead to serious consequences.
You also need to know that if you are playing together with a friend, you must use the teleport away from another player who has the same teleport.
Below you can see a screenshot of an example of a room decorated in a certain style: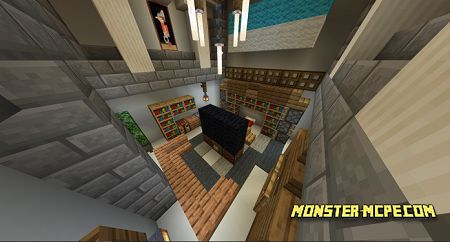 As you already understood, this add-on can be used by players for multiplayer games with other players!
In a future update, this room will be even larger.
Attention:
We do not recommend leaving any significant and rare items in the room as you risk losing them.
Don't forget to activate the Experimental Game Settings!
Private Space "Dimension" Add-on 1.16+